WELCOME TO INOFFIX!
Indoor climate adjustment
You may use this app to adjust your room temperature by scanning the QR code situated by the door.
Based on the default setpoint, you are able to adjust the temperature +/- 2 degrees C.

Only with wifi
Please note that the app only works if you are connected to Wi-Fi AXIS Guest.
Automatic reset
The temperature is automatically reset to the default setpoint every Friday at 20.00.
Instructions
Download the app in your app store:


Start the app and tap the QR-code icon on the screen. The screen will then look something like below: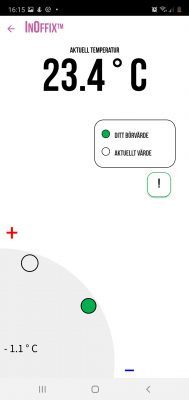 You can change the settings with – or + or by moving the coloured dot. The white dot shows the actual temperature.
Support
Still not working, please place a ticket to Axis Facilities.